Achieve results without surgery.
Non-Surgical Chin Augmentation
Expert use of dermal fillers can achieve results without surgery. Fillers such as Volux, Radiesse and Voluma can sculpt the chin, better define the jawline, correct a small chin, or build a more prominent chin to achieve a more pleasing facial shape (think Reese Witherspoon's heart-shaped face). Our jawbone degenerates and shrinks very slowly over time, resulting in a recessing of the chin area. Fillers can help reverse this effect by rebuilding the lost volume and achieve chin augmentation without surgery or as a "trial" that lasts one to two years before surgical intervention. A more prominent chin and jaw definition can also help hide early neck laxity.
Chin fillers can:
Correct a small or set-back chin
Define and lift a sagging jawline
Correct a cleft chin
Bring a square face to a more heart or V-shape
Non-Surgical Liquid Nose Jobs
Non-surgical rhinoplasty uses fillers such as Voluma and Radiesse to build up a flattened nasal bridge, lift the tip of the nose, narrow the nostrils, and give a flatter nose a more upright appearance. This procedure is extremely effective in correcting a bump or straightening a slightly crooked nose. Fillers do NOT make the nose larger, but by reshaping, the nose can look thinner. Lots of patients opt for this non-surgical, non-invasive option to easily and quickly mimic a nose job without the downtime or commitment of surgery, while achieving results that last for up to a year. Results with fillers such as Voluma are reversible if you don't enjoy the outcome, though patients are usually thrilled with their results.
Liquid rhinoplasty can:
Straighten a crooked nose
Give the nose a thinner appearance or sculpted tip
Lift a flatter-appearing nose for a more upright look
Narrow the nostrils
Build or sculpt a flattened nose bridge (where the sunglasses sit)
Expert use of dermal fillers can achieve results without surgery.
Please read our Pre and Post Filler directions for best results and what to expect.
What to Expect During Treatment With Nose or Chin Fillers
Before your treatment, you'll meet with a specially trained member of our team to discuss your goals for treatment. We'll talk about what we can and cannot achieve using dermal fillers to make sure this procedure meets your goals.
When you're ready for treatment, we'll position you on a treatment bed. Most patients lie down for their injections. If you're worried about discomfort, we can provide you with a topical anesthetic.
Once the anesthetic takes effect, we carefully inject filler into the treatment area. You may feel slight pinching or pressure with each injection.
The process is quick and is usually complete in under 15 minutes. After your injections, you can return to your daily activities. We'll provide detailed recovery instructions.
Patient Results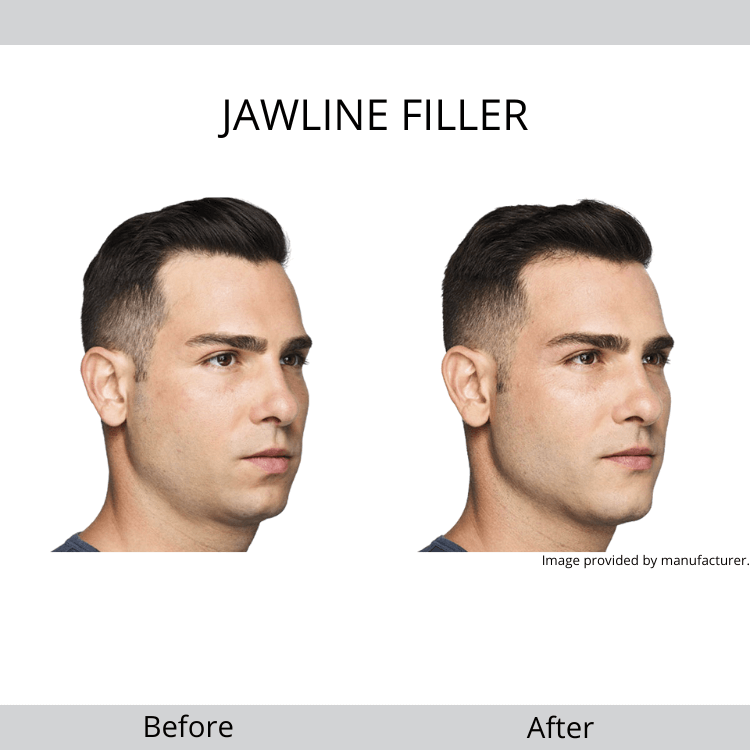 Please read our Pre and Post Filler directions for best results and what to expect.
View more before and after photos
Related Videos
Common Questions:
Fillers aren't painful for most patients, and topical anesthetic is available. If you're concerned about discomfort or feel anxious about your treatment, ask us about Pro-Nox, a patient-administered nitrous oxide delivery system. This system provides patients with a safe and effective option for relaxing during their aesthetic treatments.
Many of our patients enjoy their results for at least six months per treatment. We can maintain results with follow-up injections if desired.
Liquid rhinoplasty and non-surgical chin augmentation use fillers instead of surgery to shape and contour the face. This non-surgical approach is generally much more affordable than surgery. We'll create a customized quote for your procedure during your consultation. At The Derm Institute, we prioritize transparent and fair pricing on all our procedures.
Find out if you are a candidate for these procedures by scheduling your consult today!